• Build your Structured Barrel® 1x or in stages:
• Prices update automatically in real-time per selected add-ons in shop.
• Pay 1x or in monthly installments.
• If 25-50% more-barrel life is attained compared to that of a standard barrel (varies by caliber as consistent cleaning and borescope utilization recommended), ROI is achieved on top of all the performance gains uniquely exhibited by a Structured Barrel®.  Larger the caliber, faster the potential for ROI.
• Click here for the complete article.
On September 14, Nomad Rifleman Shooting Experience shot 7,747yd or 4.4 miles using a .416 Structured Barrel®.  Averaging 45s to 1min between shots, Nomad shot 422gr Cutting Edge MTACs at 3,300 fps and the Structured Barrel "hardly warmed up at all."  The shooter kept asking, "Shouldn't we let the barrel cool?" Scott would feel the barrel and shake his head, "Nope, doesn't need it."  Nomad monitored its temperature using a thermal imaging camera, and found the barrel, even by the muzzle, never exceeded 91°F (32.8°C) on the 68°F (20°C) day they shot" after 69 rounds.
"When trying to maximize your time during calm wind conditions of the early morning, not having to let the barrel cool is a huge benefit, not to mention the barrel's life will be extended.  Another side benefit of the Structured Barrel® is the lack of felt recoil.  It's hard to explain without actually shooting it."
Caliber: .416
Bullets | Cutting Edge MTAC 422gr
Muzzle velocity | 3,300 fps
Shots | 69
Max temperature | 91°F (32.8°C)
This contrasts Nomad's exepereince shooting a custom, heavy contour barrel chambered in .375 CheyTac®, finding they could only shoot seven consecutive rounds (non CheyTac® Balanced Flight ammunition) before the heat within the barrel would cause 'flyers' of about 1-MOA high.  "The Structured Barrel® is a real game-changer."
• Click here for the complete article.
"It is very important while testing barrel or point of impact drift to make every effort to isolate the different contributing factors when possible.
With this in mind all weapons were cleaned and fouled with an equal number of fouling shots [using new brass throughout the tests], chambered to the same action via a West Texas Ordinance Switch Lug, and consisted of high quality hand-lapped barrels mated to one action, load developed (Berger OTM Hybrids 105gr & 130gr) that consistently shot <1/2 MOA and averaging single digit SDs throughout entire test with action torqued in one chassis throughout test with Schmidt and Bender PMII remained mounted throughout test, and a Jewell Trigger 14oz. During the first test the Structured Barrel (green) outperformed the RPR (blue) to such a degree that data looked a little unfair and the test was ran again to confirm the results.
For the second version of the test the structured barrel (yellow) was pitted against a Bartlein 6.5mm Creedmoor (orange). As was the case with the initial RPR v. TacomHQ test, the Structured Barrel outperformed in practically every metric: smaller variation in point of impact, lower sectional temperatures, longer heat cycle, and lower variance in velocity through out the test.
The blue and gray plots show the large drift produced by the RPR which amounted to more than an MOA of drift horizontally and more than 3/4 MOA vertically. The orange plot of the medium Palma Bartlein showed nearly 1.0 MOA of vertical drift and just under 1/2 MOA horizontally. The Structured Barrel from TacomHQ showed less than 0.4 MOA drift in all directions. These plots represent four instances of 50 round shot strings and one additional 25 round shot string!
All things, as equal as they can be, the Structured Barrel setup could see +0.5 MOA of additional accuracy. During a long string of fire or long engagement, this system would maintain a higher hit probability than a conventional barrel. The conventional barrel reached temperatures of 180°F while the Structured Barrel remained 17°F cooler."
• "The first 10-rounds with the SK were one hole.
One thing became very obvious to me is the ES/SD impact shows immediately, but that was it.  The rifle wants put everything in the same hole.  It's like watching a video game through the scope.  No recoil, no movement, nothing just deadness.
Groups at 100-yds | POA 2/10ths high:
+ 1st row CX .001RO | Avg .1675″
+2nd row Midas+ no RO | Avg .268″
+3rd row XACT no RO | Avg .276″
+4th row Tenex no RO | Avg .272″
*RO – Run out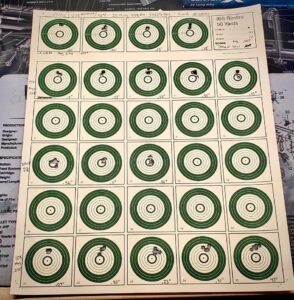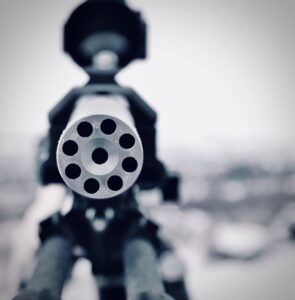 Corollary data:
CX 0.001RO | Avg 1065 SD 6.7
M+ | Avg 1068 SD 11.4
XACT | Avg 1049 SD 8.9
Tenex | Avg 1107 SD 8.1
Δ58 FPS
Honestly, the rifle outperformed every ammo I fed it.  It needs to go to Lapua and Eley for testing in their tunnels to find an ammo lot that will deliver the best SD's.  It was amazing shooting across the radar that I could tell based on where the impact went whether the velocity was high or low.  I did have some ammo I was testing an Olympic runout gauge on, and the ammo performed best. And it was .001RO. I still need to shoot the .000's I have, those will tighten up the group even more. Or at least the data of 20 years of research shows that for every .001″ of run out equates to 1/10th group size.
The barrel is outstanding, and shows quickly the weak point is in the ammunition. Even though it's Olympic ammo." – Chris Baxter